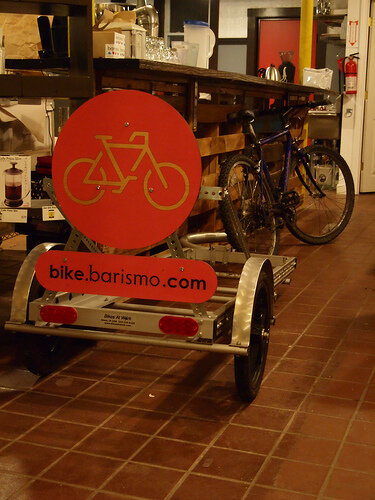 Follow this bike to good coffee
You'll see our new and improved bicycle cart touring greater Cambridge loaded up with coffees for locals. Fresh coffee delivered within hours of roasting has been a fun thing to be a part of. It just made sense to launch this given how bike friendly Cambridge and Somerville are. After seeing how supportive the feedback has been as shop owners and more customers take notice of the bike in town, we are glad we did it.
Track it through bike.barismo.com where we are testing out using a foursquare script to locate where the freshest retail shows up. We are also updating our stops on twitter so that you can get yourself over there for some bags.
Relationship coffee delivered the same day it's roasted or the next morning is kind of a cool thing. Since fresh roast is such a key component to great coffee, we consider this a bit of a quality assurance project!
We're having fun with it and hope you can support this project by picking up a bag of coffee at one of our stops.